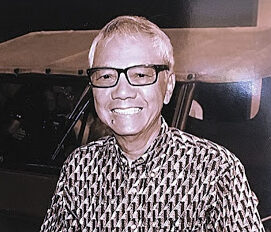 Virgilio "Leo" R. Agcolicol
Leo was born in Paoay, Ilocos Norte, Philippines on November 12, 1943. He arrived in Hawaii on July 12, 1967, and worked at Central Pacific Bank from 1968 until he retired on October 13, 2013. He served in the United States Army from 1969-1971, and has been working as the voice of KNUI AM 500 community-oriented Filipino program since 1974.

Outside of radio and finance, Leo's passion lies in community service. He's been active in the following organizations: Maui Filipino Community Council (Past President/Board member); Paoay Curimao Hawaii Organization (President); Maui Filipino Chamber of Commerce (Past President); United Filipino Council of Hawaii (Past President); Knights of Columbus, District 8 (District Deputy); Maui Arts and Cultural Center; J. Walter Cameron Center; Salvation Army; Maui Memorial Hospital Foundation; Veterans of Foreign Wars, Disabled American Veterans and Vietnam Veterans of Maui.